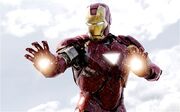 After the Illusion Reactor was made,Mark VI was the best in the Extremis Illusions.
Section heading
Edit
The Start:The Armor was never shown in battle since the expirement made it just an armor.But it was strong in a lot of ways.The Copycat wanted the armor so he went to Extremis Subject to re-do it but he was already strong so the expirement didn't do anything.
Section heading
Edit
The Fight:When it went to fight Tony's Mark VII,it lost in 1 shot.Then it was shown that Copycat's jealousy destroyed the power supply and made the armor die in 1 hit.Copycat was never found but in the end he gets nightmares and wants to get the Reactor himself.
Copycat's First
Hack
:He got Mark VI before Igor-Buster,and won a lot of people.In the end he hacked Igor-Buster and made it stronger and gave it some Mark VI power.That was the strongest Iron Man Armor made by the Extremis Company.
Balrentor discovered that the Mark VI was never made for Anti-Marvel but made for Marvel.